The Arc of Shelby County generally meets quarterly on the following schedule:
4th Tuesday in March
4th Tuesday in June
4th Tuesday September –
(Annual Awards Banquet)
4th Tuesday in November
Special Events:
Annual Joint Golf Fundraiser with SENSES and Aktion Club
1st Saturday in June
Annual Mayor's 5K Walk
Fundraiser
With SENSES and Aktion Club
2nd Saturday in September
Membership in The Arc of Shelby County or the Shelbyville VC Aktion Club may be made by completing the membership application forms available on this website under the respective Tabs for each. There is a membership fee to join The Arc, but no fee is needed to join the Aktion Club.
All organizations herein follow a rigid non-discrimination policy
The SENSES Gym currently has the following schedule:
Every week, except during holiday season:
Tuesday – Open Gym
10 am to 1 pm
Thursday – Open Gym
4 pm to 7 pm
Saturday – Open Gym
10 am to 1 pm
Birthday Parties and other special events may be made by contacting:
Holly Forville
Phone: 317-370-8238
Email: hforville@gmail.com
The gym is open to children of all abilities from ages 1 to 6 years. 
Since the gym is "parent-led", there are certain limits on how many children may attend at one time. Please contact Holly to obtain more specific information regarding these limitations.
For the safety and security of everyone, certain policies of the gym must be observed. Thank you for your understanding.
The Aktion Club meets every 2nd and 4th Tuesday of the month except during holiday periods.
Meetings are usually held at the Briley Family Center of Trinity United Methodist Church, 643 Fair Avenue in Shelbyville, IN.
Except for special events, meetings are held at 6:30 pm. Dinner meetings begin at 6 pm.
Contact: Don Collins at:
Phone: 317-398-6708
or Email: collins.don@comcast.net
Please call or Email prior to a first time visit to confirm the time and location of all meetings and events. Thank you.
All meetings are open to the public and prospective new members are welcome to visit to observe and check out what the club activities are all about.
Special Event:
The Annual Joint Car Wash with Special Olympics is held on the first Saturday in July. Check with Don to confirm the actual date.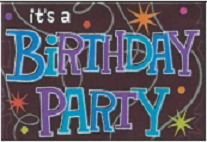 Birthday parties or similar special events may be held at the SENSES indoor gym by prior arrangement with Holly. Certain conditions apply due to facility and space limitations. The usual arrangement involves about an hour or so of play and learn time allotted for the actual birthday celebration.